22:25. There is a conspiracy of prophets in the midst thereof: like a lion that roareth and catcheth the prey, they have devoured souls, they have taken riches and hire, they have made many widows in the midst thereof. -- Ezekial, 22:25, DRV Bible 11:9. And the Lord said to me: A conspiracy is found among the men of Juda, and among the inhabitants of Jerusalem. 11:10. They are returned to the former iniquities of their fathers, who refused to hear my words: so these likewise have gone after strange gods, to serve them: the house of Israel, and the house of Juda have made void my covenant, which I made with their fathers. -- Jeremiah, 11:9, DRV Bible
8:12. Say ye not: A conspiracy: for all that this people speaketh, is a conspiracy: neither fear ye their fear, nor be afraid. 8:13. Sanctify the Lord of hosts himself: and let him be your fear, and let him be your dread. 8:14. And he shall be a sanctification to you. But for a stone of stumbling, and for a rock of offence to the two houses of Israel, for a snare and a ruin to the inhabitants of Jerusalem. - Isaiah 8:12-14, DRV Bible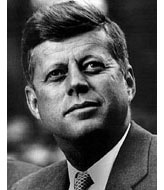 "The very word 'secrecy' is repugnant to a free and open society, and we are as a people inherently and historically opposed to secret societies, to secret oaths, and to secret proceedings.... we are opposed around the world by a monolithic and ruthless conspiracy..." John F. Kennedy, our only Catholic President, tried to warn us. (Some say this is the speach that cost him his life. In it, he shows an understanding of hidden history, and like Pope Leo XIII, in his celebrated encyclical, Humanum Genus, JFK evidently knew of the close connection between secret societies and communist totalitarianism, as did J.R.R. Tolkien, also a Catholic.)
"The Roman Pontiffs Our predecessaors in their incessant watchfulness over the safety of the Christian people, were prompt in detecting the presence and the purpose of this capital enemy immediately it sprang into the light instead of hiding as a dark conspiracy." Pope Leo XIII, Humanum Genus, speaking of what Pope Piux IX called "the synagogue of Satan", i.e., "Judeo-Freemasonry", as the famous Monseigneur Jouin called it in his lecture The Papacy & Freemasonry.
"...you must labor and diligently take care that the faith may be preserved amidst this great conspiracy of impious men who attempt to tear it down and destroy it." Pope Gregory XVI, Mirari Vos, Encyclical, August 15, 1832 A.D., as quoted from secondary source, The Papacy & Freemasonry, by Msgr. Jouin
---
Freemasonry must die, or liberty must die." -- Charles G. Finney

---
FREEMASONRY IS KABBALISTIC, NOT CHRISTIAN!


VISIT TALMUDUNMASKED.COM FOR MORE INFORMATION.
THOSE WHO WILL NOT BE RULED BY CHRIST WILL BE RULED BY ANTI-CHRIST.
"Those who sin are slaves, and slaves have no rights."

-- Jesus Christ, John 8:34
---
"Qabalah is the heart of the Western Hermetic tradition; it is the foundation upon which the art of Western magic rests." -- Sandra and Chic Cicero, the authors of "The Essencial Golden Dawn: An Introduction to High Magic", page 96. Llewlellyn Publications "For by thy sorceries were all nations decieved."
Rev. 18:23
---
Disclaimer: Opinions posted on this website are those of the individual posters and do not necessarily represent the opinions of N.O.S. or Craig Heimbichner or their associates. All materials posted herein are protected by copyright law and the exemption for fair use of copyrighted works. Neither this site nor its content has been authorized by Craig Heimbichner, in whose honor the site is dedicated.

---
"THOSE WHO WILL NOT BE GOVERNED BY GOD WILL BE RULED BY TYRANTS."


-- Thomas Penn



NO KING BUT JESUS!
---
| HOME | MISSION | AUDIO | VIDEO | ALERT |
---
Prepared & presented by N.O.S., Purgatory, Colorado, USA
[HTML Generated by PALMTREE Copyright (c) John Paul Jones, 2004]